ASHLAND, Mass. (June 27, 2013) – MatTek Corporation, Ashland, MA, (USA) announced today that MatTek In Vitro Life Science Laboratories (IVLSL), located in Bratislava, Slovakia, will begin producing EpiOcular for commercial sale on July 1.
The EpiOcular tissue model is produced under GMP conditions and tissues produced in Bratislava and MatTek's U.S. facilities meet the same quality control specifications, as confirmed by a successful audit by MatTek's Quality Assurance department.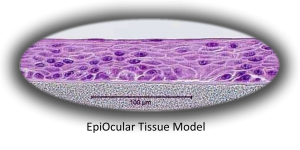 Increasing the availability of EpiOcular in Europe will not only provide customers with greater ease of ordering and lower shipping costs, but will also aid customers in meeting the requirements of the 7th Amendment to the Cosmetics Directive and REACH guidelines.
"The reconstructed human cornea-like EpiOcular tissues can be used for in vitro assessment of eye irritation potential of substances and formulations," said Dr. Helena Kandarova, Director of MatTek IVLSL. "Moreover, the EpiOcular Eye Irritation Test has been pre-validated by COLIPA, now Cosmetics Europe, and is in the final stages of a validation process driven by Cosmetics Europe and ECVAM," she said.
Since establishment, IVLSL has provided European customers with shorter transit times, fewer customs delays and lower shipping costs. The IVLSL facility began producing EpiDerm for commercial sale in January of 2012.
"We look forward to better servicing our European customers directly from our new state-of-the-art tissue production facility in Bratislava," said Mitchell Klausner, President and CEO of MatTek Corporation.  Mr. Klausner added, "The ability to ship both EpiOcular and EpiDerm tissues from within the EU will further assist companies in eliminating unnecessary animal use for determining ocular and dermal irritation."
About MatTek – MatTek Corp. is the world's largest independent producer of in vitro human epithelial tissue equivalents.  With 20 years of publicly available QC data and over 700 technical references supporting our claim of "Unsurpassed Long-Term Tissue Reproducibility", MatTek human tissue equivalents are used in product development, claims substantiation (over 400 patent references cite the use of MatTek tissues), safety assessment, and drug discovery/development in many industries including Cosmetics, Personal Care, Household Products, Chemicals, Pharmaceuticals and Biotech.

Contact Information:
Alex Armento
Sales & Marketing Manager
MatTek Corporation
200 Homer Ave.
Ashland, MA 01721 USA
E: aarmento@mattek.com
T: 508.881.6771 X242
F: 508.879.1532
W:

 

www.mattek.com