Eye Irritation Test (OECD TG 492)
The EpiOcular Eye Irritation Test predicts the acute eye irritation potential of a topically applied chemical or formulation by measurement of its cytotoxic effect of the EpiOcular cornea epithelial model. This in vitro hazard assessment allows for the identification of chemicals (substances and mixtures) not requiring classification and labeling for eye irritation or serious eye damage in accordance with UN GHS.
MatTek offers the EpiOcular Eye Irritation Test as a GLP or non-GLP service.
Protocol
Test Model
EpiOcular
Replicates
N=2 tissues per test condition
Exposure Time
Liquids – 30 minute topical exposure to 50µl of test material per tissue
Solids  – 6 hour topical exposure to 50mg of test material per tissue
Assay Controls
Negative Control – Sterile deionized H2O
Positive Control – Methyl Acetate
Endpoints
MTT Tissue Viability Assay
Data Delivery
% relative viability ± SD
In vitro classification
Download the EpiOcular Eye Irritation Test Protocol
Data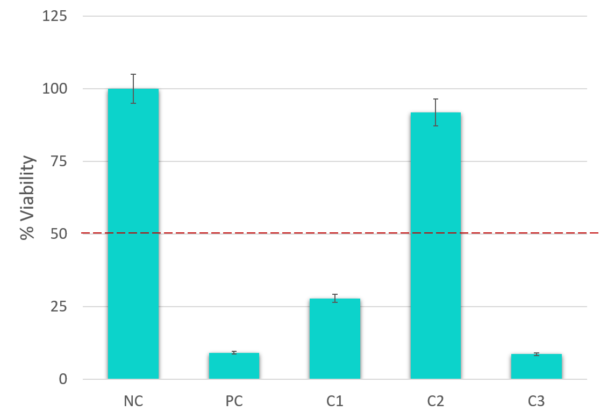 Request a Quote
Thank you for requesting information about MatTek products! A representative will contact you shortly.
**If you would like to place an order for MatTek products, please contact Customer Service**