Careers
MatTek is always recruiting new team members to help us serve our growing customer base and develop innovative products and applications to meet the needs of researchers across multiple industries. If you are a team player with the energy to keep up with a growing tech company, we want to hear from you!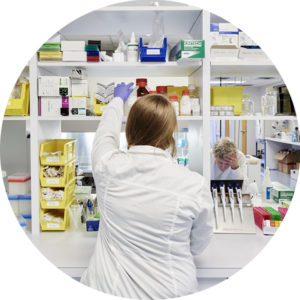 Why MatTek?
We're bringing #betterscience into the mainstream with engineered human tissues that replace laboratory animals.
We're constantly developing new tissue models, assays, and technologies to improve testing capabilities.
We're helping to advance scientific breakthroughs that get therapies to patients faster and improving the safety of consumer products.
We're expanding!
We have sweet new labs.
We're developing and launching new products and services.
We have a strong tradition of internal promotion and give our people opportunities to grow.
Competitive Benefits
We have a culture based on teamwork and supporting each other to get the job done.
We believe in work-life balance – it's one of our core values.
We offer Blue Cross Blue Shield healthcare with a 100% company-paid deductible.
We offer a generous, matched 401k too!
We like it here! We want our people to love the work they do and enjoy coming to work every day.
Open Positions:
MatTek Corporation, the leading manufacturer of 3D human tissues, has an immediate opportunity for a full-time Production Associate to join our team.  The Production Associate will be a member of a group that is involved in all aspects of the tissue production process.  Responsibilities include maintenance, subculturing and cryobanking of cells used in products, media and reagent preparation, packaging of product for shipment to customers and recording detailed manufacturing procedures.  The ideal candidate will be able to perform the tasks above and enjoy working in a team environment.
Summary of Qualifications:
-Bachelor of Science degree in biology or Associates degree with 2+ year's hands-on experience with cell culture required
-Previous experience in tissue engineering is highly desirable
-Candidates must be able to work Mon-Fri along with some holidays and Saturdays on a rotating schedule
MatTek offers a competitive salary and a comprehensive benefits package.
Please forward resume to: careers@mattek.com
Description:
Participates in duties associated with the manufacturing of MatTek tissue models according to SOPs where applicable. Demonstrates proficiency through experience for all production processes and testing assays.  Also performs additional assigned duties as needed.
Reporting structure:
Works under the direction of more senior Associates and the Laboratory Manager.  Reports directly to the Laboratory Manager or Product Manager.
Responsibilities: 
• Performs all necessary production tasks
• Feeds tissues and cells using sterile technique and attention to detail
• Prepares media and supplements
• Packages tissues for shipping
• Critically examines cell morphology and has the ability to distinguish between a normal,
healthy culture and a culture with poor morphology
• Critically examines tissues and performs visual inspection prior to packaging for
shipment as part of quality assessment
• Performs QC testing of tissue products (TEER, ET-50)
• Thaws, expands and freezes cells for tissue production
Qualifications and experience:
– Master's degree in Biology or equivalent with no experience, or Bachelor's degree in Biology or
equivalent with 2+ years of hands-on cell culture experience
– Detailed knowledge of mammalian cell culture
– Detailed experience in aseptic technique
– GMP training and/or previous tissue engineering experience
– Proficient in Microsoft Office (Excel, Word, PowerPoint)
– Strong organizational and teamwork skills
– Ability to work in a fast-paced environment, Mon-Fri (plus Saturdays and Holidays on a rotating
schedule)