Normal Human Bronchial Epithelial Cells
MatTek's Normal Human Bronchial Epithelial Cells (NHBE) provide an ideal serum-free culture system to study cell-cell and cell-matrix interactions, drug effects, gene regulation, cell differentiation, tissue development, wound healing, inflammation and toxic effects to the bronchial epithelium.  NHBE cells from non-diseased donors, as well as donors with well-characterized smoking history, or diseases such as asthma and COPD, are available.
Donor matched bronchial fibroblasts (NHBF) are available upon request.
Normal Human Bronchial Epithelial (NHBE) cells exhibit cobblestone morphology in monolayer culture and are characterized by expression of Cytokeratin 14.  Our cells are guaranteed to provide a minimum of 15 population doublings and ≥ 75% viability upon thaw, when handled according to MatTek's NHBE protocol.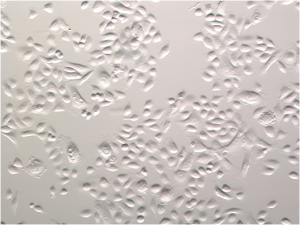 Download the Human Bronchial Epithelial Cells Data Sheet

All cells are negative for mycoplasma, bacteria, yeast, and fungi. HIV-1, hepatitis B and hepatitis C are not detected by PCR for all donors and cell lots.  This product is for research use only.  Not for use in animals, humans or diagnostic purposes. 
Download the Cells & Media Price List
MatTek's cryopreserved human bronchial epithelial cells are shipped on dry ice ($93 charge) every Monday, Tuesday, and Wednesday. To place an order, send a message or purchase order to sales@mattek.com or call customer service at +1-508-881-6771.
Request a Quote for Cells & Media