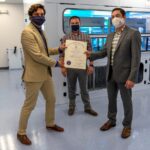 Ashland Business Celebrated at Annual Manufacturing Award Ceremony
Boston, MA – The Massachusetts Legislature's Manufacturing Caucus hosted its 5th Annual Manufacturing Award Ceremony virtually today. The ceremony honored manufacturers from across the Commonwealth, showcasing their innovative and revolutionary manufacturing capabilities and products.
Ashland-based MatTek Life Sciences was nominated by Representative Jack Patrick Lewis (Framingham) this year.  Founded in 1985 at the Massachusetts Institute of Technology, MatTek employs over seventy-five people.
"MatTek is a wonderful example of a local business adapting to meet our community and Commonwealth's needs in this unprecedented moment," Representative Lewis noted.  "Their innovative approach to in vitro science has made MatTek an integral piece of our local and national approach to combating COVID-19.  It was a great honor to nominate them as a Manufacturer of the Year."
MatTek started their work on in vitro science by producing human tissue models as reliable replacements for animal testing.  Their intestinal, ocular, oral, skin, and respiratory tissue models are used to assess safety and efficacy throughout the cosmetics, chemical, pharmaceutical, and household product industries. These advanced tissue models have been vital in assisting companies in achieving their goals of non-animal testing while lowering testing costs and providing human-relevant results. The company has expanded its offerings to include cultureware, primary human cells and media, 3Diy kits, and testing services in support of its mission to advance innovative in vitro science through the production of synergistic life science products and services.
"It's an honor for MatTek to be nominated for the Manufacturer of the Year Award," said Kevin Causey, Vice President of Business Development.  "MatTek was born out of labs at MIT and has been producing advanced life science technology in Massachusetts for worldwide use for over 30 years."
In response to COVID-19, several of MatTek's products, including EpiAirway, EpiOral, and EpiIntestinal, are being actively used in research to study infection replication rates as well as potential prevention strategies and therapies. These tissue systems have provided researchers with reliable, human-based data much faster than would be possible using traditional animal methods or human clinical studies. MatTek has also pivoted some of its labs into the production of 80% alcohol hand sanitizer formulated according to World Health Organization guidelines. The company has been donating large amounts to hospitals and first responders across New England states and has made the hand sanitizer available for purchase by the public on their website.
As part of the Baker-Polito Administration's Manufacturing Emergency Response Team (M-ERT) initiative, MatTek has also transformed some local operations to produce viral transport media, a critical component of COVID-19 testing, to support the Commonwealth's ongoing response to the COVID-19 public health emergency.
"As scientists and researchers, we are always trying to do things to make the world a little better and felt that we could make a difference in the fight against COVID-19 as well," added Causey. "Massachusetts has always been a leader in science and biotechnology, and we are proud to be a part of that culture and contribute Massachusetts-made products that advance human-relevant science worldwide."
Formed in August 2014, the Manufacturing Caucus includes more than 60 legislators from around the Commonwealth. Lawmakers focus on training for manufacturing employees; encouraging innovation by helping start-ups access resources; and expanding apprenticeship opportunities in key manufacturing sectors.