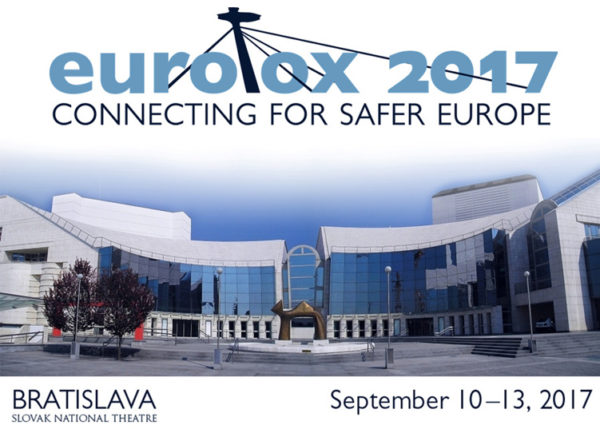 Bratislava, Slovakia, home of MatTek IVLSL, will play host to this year's event.
Attend Continuing Education Courses Featuring MatTek Speakers
Advances in in vitro models to study pulmonary toxicity of particles, chemicals and pharmaceuticals
CEC 1: Human airway epithelial models: an introduction and their applicability in mechanistic research and regulatory toxicology
Sunday, September 10, 10:00 AM – 12:00  
Patrick Hayden
MatTek Corporation, USA
Cosmetic Safety Evaluation in the Era of Alternatives 
CEC 4: In vitro reconstructed 3D models: opportunities for testing cosmetic ingredients and products without animals 
Sunday, September 10, 14:30  – 15:15 
Helena Kandarova
MatTek In Vitro Life Science Laboratories, Bratislava, Slovak Republic 
Attend our exhibitor talk:
Reconstructed 3D primary human small intestine model EpiIntestinal™ for prediction of drug induced gastrointestinal toxicity
Abstract: Gastrointestinal adverse drug reactions (ADR) cause health problems and create a burden on the health care system and the pharmaceutical industry. Gastrointestinal ADR often lead to late-stage drug attrition. This session will demonstrate the utility of a novel in vitro 3D primary human small intestine tissue based assay system to identify biomarkers that can better predict human ADR compared to preclinical animal models, and is ideal for therapeutic candidate screening.
Tuesday, September 12, 13:00  – 14:00, SNT – Blue lounge
Dr. Seyoum Ayehunie
MatTek Corporation, USA
View our posters:
Poster Session 2
Monday, 15:00-18:30 • Author attended 16:00-16:30
P-04-08-01 Assessment of the phototoxicity of three different TiO2 nano-forms using reconstructed human tissue model EpiDerm Alzbeta Liksova
P-04-02-04 Determination of contact sensitization potential of chemicals using in vitro reconstructed normal human epidermal model EpiDerm: impact of the modality of application Silvia Letasiova
P-04-07-10 EpiOcular time-to-toxicity protocol (ET-50 assay) in the safety assessment of cosmetics – a retrospective review Tatiana Milasova
P-04-07-01 CON4EI: EpiOcular Eye Irritation Tests  – OECD TG 492 and ET-50 (time-to-toxicity) protocols Helena Kandarova
P-04-12-06 Detecting GI toxicity earlier than in dog: developing the first in vitro assay to predict clinical diarrhea Maria Hubinska
P-04-12-03 3D-human small intestinal tissue to study ligand-induced acute and chronic inflammation in the gastrointestinal tract Jan Markus
Poster Session 4
Tuesday, 15:00-18:30 • Author attended 16:00-16:30
P-09-02-52 Detection of reactive chemicals and oxidants using an organotypic human airway model with Nrf2 reporter activity: Application to tobacco products Patrick Hayden
P-09-02-58 Use of mass spectrometry imaging and a full thickness 3D skin equivalent for evaluation of percutaneous absorption Mitchell Klausner
P-09-02-77 In vitro reconstructed human corneal tissue model: applications to corneal oxidative stress, dry eye, and ophthalmic drug delivery Ivan Smolicek
P-09-02-54 3D-Human Small Intestinal Tissue Model as an Alternate to Animal Testing to Predict Drug Toxicity, Permeability, and Metabolism Seyoum Ayehunie