Normal Human Corneal Epithelial Cells
MatTek's Normal Human Corneal Epithelial Cells (NHCE) and growth media (NHCE-GM) provide an ideal serum-free culture system to study cell-cell and cell-matrix interactions, gene regulation, cell differentiation, tissue development, wound healing, and toxic effects to the corneal epithelium.
NHCE cells are isolated from the progenitor-rich limbal region of whole corneas.  MatTek's NHCE cells are characterized by their cobblestone morphology and positive expression of cytokeratin 3/12, cytokeratin 15 and aldehyde dehydrogenase 3A1.
Donor-matched corneal keratocytes (NHCK) are available upon request.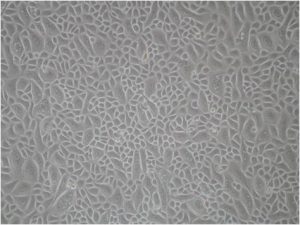 Download the Human Corneal Epithelial Cells Data Sheet

All cells are negative for mycoplasma, bacteria, yeast, and fungi. HIV-1, hepatitis B and hepatitis C are not detected by PCR for all donors and cell lots.  This product is for research use only.  Not for use in animals, humans or diagnostic purposes. 
Download the Cells & Media Price List

MatTek's cryopreserved human corneal epithelial cells are shipped on dry ice ($93 charge) every Monday, Tuesday, and Wednesday. To place an order, send a message or purchase order to sales@mattek.com or call customer service at +1-508-881-6771.
Request a Quote for Cells & Media