Skin Corrosion (OECD TG 431)
Use EpiDerm to determine the skin corrosion potential of chemicals or formulations including liquids, solids, gels, lotions, ointments or creams. Skin corrosion results are acquired within 1 day.
METHODS
EpiDerm tissues (Figure 1) are equilibrated overnight under standard culture conditions (37 C, 5% CO2, 95% RH) with EpiDerm Assay Media (EPI-100-NMM). 18-24 hours later tissue culture supernatants are aspirated and replaced with fresh, pre-warmed media. Tissues are exposed to test materials and controls for 3 and 60 minutes. Following exposure, tissues are thoroughly rinsed and tissue viability is then determined by the MTT Assay.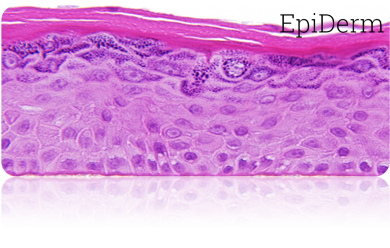 RESULTS
The determination of skin irritation potential of test materials is based on tissue viability.  According to the EU and GHS classification (R38 / Category 2 or no label), an irritant is predicted if the mean relative tissue viability of triplicate tissues exposed to a test material is reduced below 50% of the mean viability of the negative controls.

CONCLUSIONS
The EpiDerm Skin Corrosion Test (SCT) is a formally validated in vitro method for the accurate and reliable prediction of chemicals that are corrosive to the skin from non-corrosive chemicals.  This test method is used for the classification of skin corrosion hazard according to the GHS System.
Download the EpiDerm Skin Corrosion Test Protocol
For more information, view Technical References.
Learn more about EpiDerm.